| | | |
| --- | --- | --- |
| | The Kart Track is closed till 08.03 due to F1! | |
Stag party, Team Building, Birthday Parties? Or just want to have some fun with the friends?
Located right in the middle of the Formula 1 race track in the exclusive environment of the Hungaroring Motorsport Centre is the completely renovated and embellished Hungaroring Kart Center.
The main objective while creating the outdoor Kart track was to make an exciting, dynamic, technical track studded with curves as those tracks where the Formula 1 drivers started their career.
Hungaroring Kart Center in the heart of Hungary's only Formula 1 race track welcomes the motorsport enthusiasts with state of art 270cc SODI GT4 karts and 200cc HUBI Kids Kart!
The track is 513 meters long; equipped with tire sidewalls, armed with barriers, a state of the art timing system and several locations for the marshals to track the race. Each participant can keep track of his or her achieved results after each lap with the help of the digital display located at the end of the finish line. A printed summary of the results will also be handed over to the participants at the end of the race.
The exceptionally technical track is suitable for both settling of tournaments and learning and practicing the world of racing. The track is perfect for the tires and the high quality asphalt ensures a superb grip just like the F1 tracks.
We evolved a huge terrace with parasols and a lounge area where we can root for our racing friends on the track while sipping a refreshing soft drink or coffee. The results of the competition can be followed continuously on the LCD screen.
We ensure free Wi-Fi for all of our guests, so feel free to make your friends / co-workers jealous on the social media.
| | | |
| --- | --- | --- |
| | On Air | |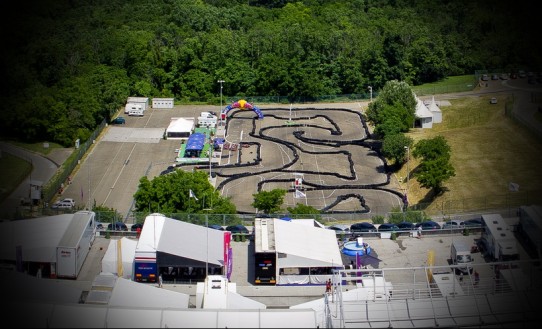 | | | |
| --- | --- | --- |
| | Track Layout | |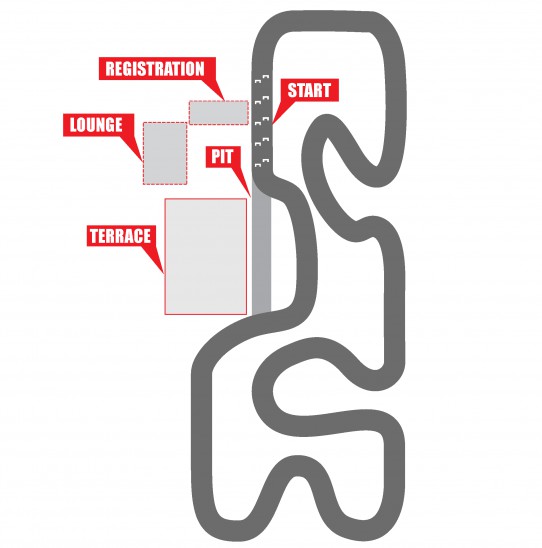 | | | |
| --- | --- | --- |
| | Onboard Cam - Telemetry | |
| | | |
| --- | --- | --- |
| | Community | |
| | | |
| --- | --- | --- |
| | Top 10 | |
| | | | |
| --- | --- | --- | --- |
| No. | Name | Time | Weight (kg) |
| 1. | Kacskovics Krisztián | 32.476 | 65 |
| 2. | Hange László | 32.504 | 61 |
| 3. | Vida Beni | 32.683 | 47 |
| 4. | Nagy Tamás | 32.841 | 85 |
| 5. | Papp Dávid Róbert | 33.201 | 65 |
| 6. | Polhammer Zoltán | 33.286 | 55 |
| 7. | Bereczki Gábor | 33.292 | 65 |
| 8. | Takács Attila | 33.473 | 65 |
| 9. | Nagylaki Roland | 33.588 | 81 |
| 10. | Petravich Sándor | 33.733 | 75 |
| | | |
| --- | --- | --- |
| | Weather | |
| | | |
| --- | --- | --- |
| | Newsletter | |